Non-Slip Type Wire Drawing Machine
Supports independent non-slip synchronized control of each capstan.
Supports 1,000m/min drawing of thin wire (Au, etc.),
under ultra-fine condition. (-15µm)
Supports reverse tension drawing under ultra-fine condition. Reduces pressure to the die surface and pullout force.
No restriction on mechanical reduction.
Adjusts automatically to given dies schedule .
Supports reducing the number of dies by setting high reduction values.
Supports stable supply of back tension on each die by way of high-precision tension control. (Supported by variable load dancer roll.)
Available attaching measuring system for a characteristic movement of die.
Supports real-time measurement / data management for reduction ratio and pullout force by tension detection unit and measuring system.
Available attaching Auto-traverse function.
Supports real-time measurement of actual reduction of each die.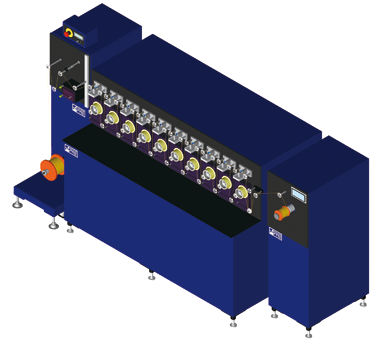 | | |
| --- | --- |
| Type | D3ULT-10D |
| Wire Materials | Au, Cu, Stainless steel, the other ultra-fine wires |
| Wire Diameter | φ0.01mm~ |
| Spool Size | Max. Flange Diameter:φ160mm / Max. Overall Width:160mm |
| Tension | 0.5~7.0cN / 1.0~15.0cN / 5.0~35.0cN / 10.0~100.0cN |
| Traverse Pitch | ~1mm/rev |
| Traverse Width | ~160mm |
| Speed | ~1000m/min(MAX5500rpm) |
| Dimensions | L880 x W2900 x H1850 mm *Safety Cover Included |
| the Number of Dies | 10 |
*Select tension according to intended applications.
Die Measuring Wire Drawing Machine
Supports real-time measurement of back / front tension,
speed, and reduction.
Supports comprehensive evaluation by real-time measurement
of wire drawing.
Available as Die evaluation machine : including die shape/abrasion effects.

Available for quality evaluation against lubricant solution effects.
Available as Non-slip type One-Die Drawing Machine use.

Customize available under request for target material and diameter.
Direct measuring Articles
Back Tension / Front Tension (by load cells)
Wire entry/exit Speed into/out of a die
Computational measurement Articles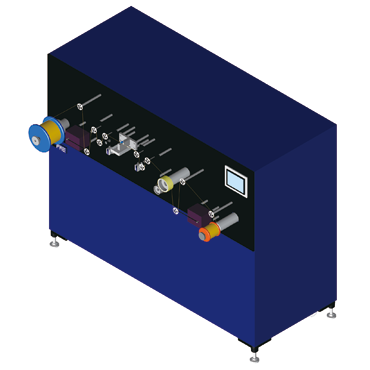 Supports automatic real-time graph/value indication of direct / computational measurement articles.